We moved to asianlove.me, please bookmark new link. Thank you!
The Smile Has Left Your Eyes Episode 15
10
(
1 votes, average: 10.00 out of 5
)
You need to be a registered member to rate this.
Loading...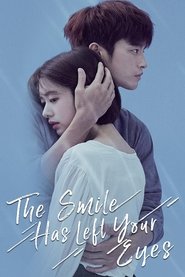 The Smile Has Left Your Eyes Episode 15
Episode Title: Episode 15
Air Date: 2018-11-21
Year: 2018
Trap
Trap
Kang Woo Hyun (Lee Seo Jin) is a respected anchor at a broadcasting station. He is a devout and happy father, who enjoys being surrounded by his charming family. He…
Status: Returning Series
Joseon Beauty Pageant
The Fiery Priest
Lookout
Lookout
People lose loved ones in crimes and the criminals are not punished. The daily lives of these people are completely broken. They form a group to realize justice.
Queen For Seven Days
Queen For Seven Days
Marrying a king guarantees a turbulent life. Shin Chae Kyung is the daughter of a powerful politician during the Joseon Dynasty. She falls in love with Crown Prince Lee Yuk,…
Goblin
Goblin
Kim Shin is an immortal "goblin," and has the rather honorable title of being the Protector of Souls. His roommate Wang Yeo also happens to have the equally lofty, if…
My ID: Gangnam Beauty
My ID: Gangnam Beauty
This romantic comedy chronicles the life of Mirae, who has always believed that her life would be better if she were born more beautiful. After she goes under the knife,…
Negotiator
Negotiator
Dou Qiao is a genius negotiator who is the star of the US-China Business Council. Male lead Xie Xiaofei also works as a negotiator, but is actually the sole heir…
Return
Just Between Lovers
Just Between Lovers
Lee Gang-Doo dreamed of becoming a soccer player, but an accident ended those dreams. His father died in the accident and he broke his leg. Lee Gang-Doo spent 3 years…
Save Me
Save Me
A girl is surrounded by suspicious people and quietly whispers, "Save me!" in a dark neighborhood alleyway, and a couple of unemployed youths hear her and run to her rescue….
Ms Ma, Nemesis