We moved to asianlove.me, please bookmark new link. Thank you!
My Secret Terrius Episode 10
0
(
0 votes, average: 0.00 out of 5
)
You need to be a registered member to rate this.
Loading...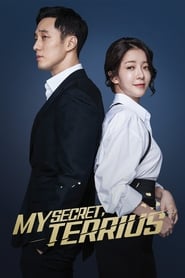 My Secret Terrius Episode 10
Episode Title: Episode 10
Air Date: 2018-10-10
Year: 2018
Top Star Yoo Baek
Top Star Yoo Baek
Yoo Baek is a former idol star, who became a household name as an actor, but he's a vain, unapologetic narcissist. When he gets into some major trouble, he is…
Status: Returning Series
Dear My Friends
Black
Black
The story of a grim reaper who gets erased from the memories of the world for breaking the rules of heaven and falling in love with a mortal woman after…
Individualist Ms. Ji Young
Individualist Ms. Ji Young
This is a short drama about an individualist, Ji Young (Min Hyo Rin), who avoids relationships with others, meets Byuk Soo (Gong Myung), who can't live without having relationships.
Hospital Ship
Hospital Ship
A story of young doctors, who provide medical care to remote island residents via a hospital ship.
Liver or Die
Save Me
Save Me
A girl is surrounded by suspicious people and quietly whispers, "Save me!" in a dark neighborhood alleyway, and a couple of unemployed youths hear her and run to her rescue….
Spring Turns to Spring
Warrior Baek Dong Soo
Warrior Baek Dong Soo
Warrior Baek Dong-soo is a 2011 South Korean fusion historical/action television series starring Ji Chang-wook, Yoo Seung-ho, Yoon So-yi, Shin Hyun-bin, Choi Min-soo and Jun Kwang-ryul. It aired on SBS…
Meteor Garden
Babel
Go Back Couple
Go Back Couple
Choi Ban Do and Ma Jin Joo are both 38-years-old and a married couple. Choi Ban Do has been burdened with being the breadwinner and Ma Jin Joo is a…