We moved to asianlove.me, please bookmark new link. Thank you!
Blessing of the Sea Episode 61
0
(
0 votes, average: 0.00 out of 5
)
You need to be a registered member to rate this.
Loading...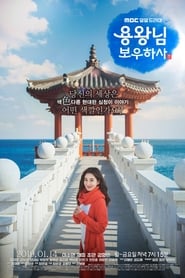 Blessing of the Sea Episode 61
Episode Title: Episode 61
Air Date: 2019-04-08
Year: 2019
The Undateables
Siege in Fog
Secrets and Lies
Secrets and Lies
Han Woo-Jung (Seo Hae-Won) has a bright personality. She is betrayed by her best friend Shin Hwa-Kyung (Oh Seung-A). Because of the betrayal, Han Woo-Jung's life is ruined. Han Woo-Jung…
Lucky Romance
Lucky Romance
A romantic comedy about superstitious woman who tries to change her foretold fate by seducing a virgin and nerd guy. Bo Nui is a superstitious woman who relies too much…
Queen For Seven Days
Queen For Seven Days
Marrying a king guarantees a turbulent life. Shin Chae Kyung is the daughter of a powerful politician during the Joseon Dynasty. She falls in love with Crown Prince Lee Yuk,…
Legal High
Legal High
A story of two completely different lawyers. Go Tae Rim is a lawyer with a 100 percent success rate who knows how to play with the law, and Seo Jae…
Top Star Yoo Baek
Top Star Yoo Baek
Yoo Baek is a former idol star, who became a household name as an actor, but he's a vain, unapologetic narcissist. When he gets into some major trouble, he is…
Status: Returning Series
Just Dance
Just Dance
In a Girls' Vocational High School in Geoje, six students dream to win a dance sports competition.
Status: Returning Series
Feel Good To Die
Feel Good To Die
Lee Roo-Da tries to reform her tyrannical boss Baek Jin-Sang to become a new and better man. Because the boss has such a terrible personality, all of his subordinates including…
Status: Upcoming
Go Back Couple
Go Back Couple
Choi Ban Do and Ma Jin Joo are both 38-years-old and a married couple. Choi Ban Do has been burdened with being the breadwinner and Ma Jin Joo is a…
Warrior Baek Dong Soo
Warrior Baek Dong Soo
Warrior Baek Dong-soo is a 2011 South Korean fusion historical/action television series starring Ji Chang-wook, Yoo Seung-ho, Yoon So-yi, Shin Hyun-bin, Choi Min-soo and Jun Kwang-ryul. It aired on SBS…